MetaTrader 4 and MetaTrader 5, popularly known as MT4, MT5 is an application developed by MetaQuotes in 2005 for trading purposes. Using MetaTrader, you can perform trading in forex, indices, cryptocurrencies, and commodities. Generally, MT4 is widely used for forex trading. We will be covering the detailed descriptive article on What is MetaTrader 4, 5 and How to install MT 4, 5?
---
What is Forex Trading?
As per Wikipedia, the definition of forex trading is, "The foreign exchange market (Forex, FX, or currency market) is a global decentralized or over-the-counter (OTC) market for the trading of currencies. This market determines foreign exchange rates for every currency. It includes all aspects of buying, selling, and exchanging currencies at current or determined prices. In terms of trading volume, it is by far the largest market in the world, followed by the credit market." Did you understand? Don't worry, we will explain it most thoroughly.
Suppose you're from the United States and traveled to the United Kingdom for official work. In the United States, you have currency USD, but in the United Kingdom, it is Pound. You cannot use USD directly in the United Kingdom to buy/sell anything, and there you need a pound for the transactions. So, to exchange available USD currency for the Pounds, you get in touch with the currency exchanger. The company/broker will charge X amount as brokerage and provide the United Kingdom's currency in USD exchange. That's it! Forex trading is nothing but buying/selling currency at a particular exchange rate.
Forex = Foreign Exchange
---
Benefits of MetaTrader 4, 5 Software
Trading System
Systematic alignments and positional placement of options make the MetaTrader more comfortable to use. You can compare and trade with multiple windows at a time check the live feeds and news.
Analytical Functions
To get succeed in forex trading, you must have an analytical approach. Instead of just checking out news and the updates won't help 100% of the time. The more you research, eventually make more profit. MetaTrader (MT4, MT5) comes with comprehensive analytical functions which can make your life easier as a forex trader.
Trading signals and copy trading
MetaTrader (MT4, MT5) has a feature of checking other trader's portfolios and holdings. By getting a general idea and scopes in various currency exchange rates, you may know where to invest more. Or else you can copy the portfolio of other traders directly.
MetaTrader Market
MetaTrader (MT4, MT5) application comes with an inbuilt marketplace where you can find the experts in forex trading, which may guide you through picking up the potential currency exchanges and may you in selling the holding.
Mobile Trading
MetaTrader (MT4. MT5) isn't limited to desktop versions (Windows, MacOS), but it also has Andriod and IOS applications. Through the MT4, MT5 mobiles application, you can conveniently trade in the forex market.
---
Install the MetaTrader 4, 5 (MT4, MT5) Software
1. First, visit https://www.metatrader4.com/en/download and download the MetaTrader software installer.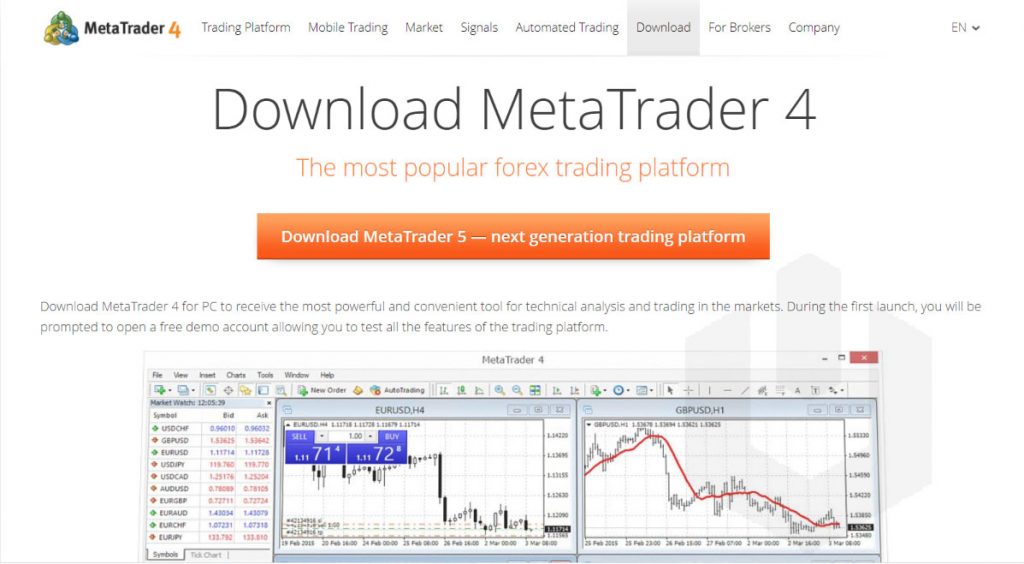 2. Run the installer, you should see Welcome screen → Click on Next.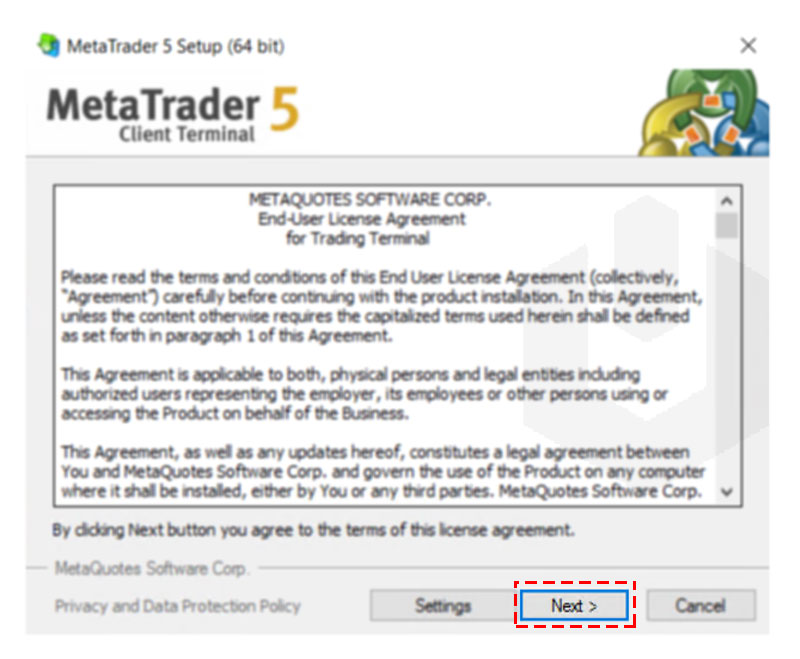 3. System will start the installation of MetaTrader software.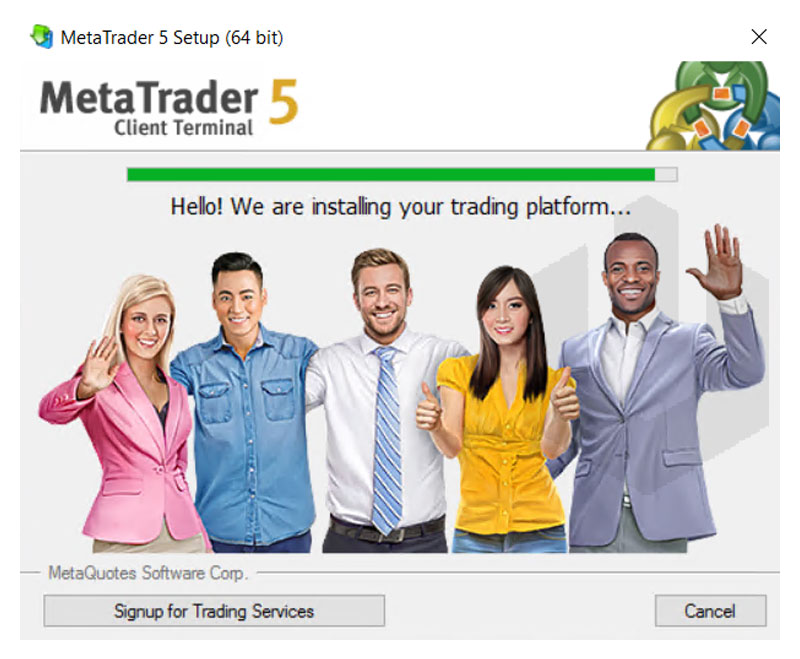 3. Congratulations! You have successfully installed MetaTrader software for Forex Trading.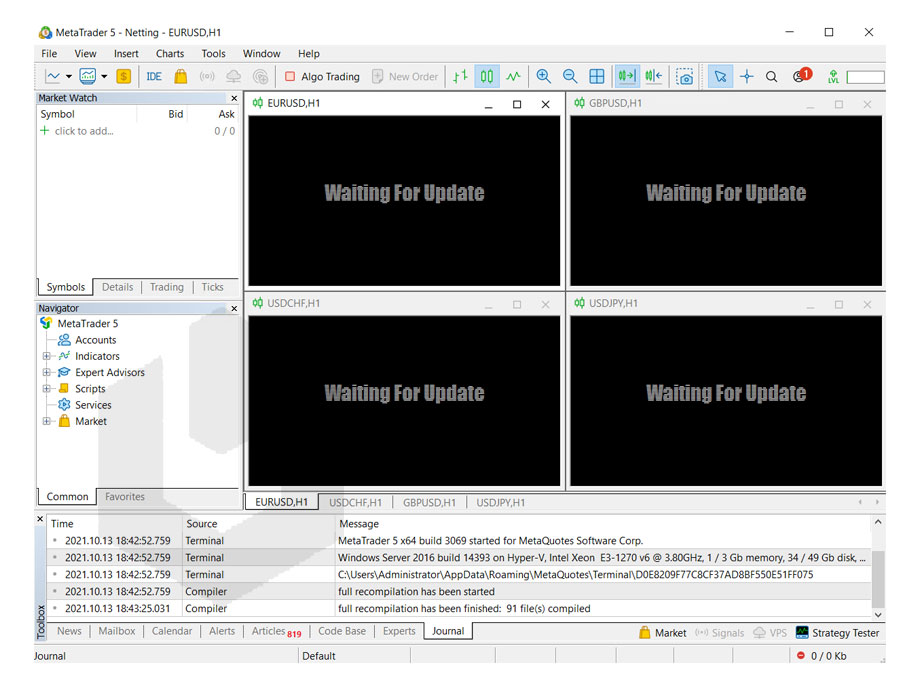 ---
Conclusion
In the article, we went through what is MetaTrader and how to install MT4, MT5 on the windows operating system. Further, we will be covering the indetailed articles on forex trading.
Hyonix was founded in early 2018, as we believed the current pricing of Windows VPS was far too overpriced for most consumers. This makes it nonuser and budget-friendly for many people around the world. Our main goal is to change that – providing powerful licensed Windows VPS at a reasonable price so that everyone can grab one without thinking twice about the performance/price that you will get. Get yourself fully optimized Windows VPS starting @ $6.5/mo from Hyonix.com.